Sari is an integral part of Indian culture. Over the time, sari has taken many forms and adorned by women around the world, this six yards piece of fabric is now making its presence felt in the global fashion industry.
Sari is usually worn with a blouse or a top. But what would you say about those creative designers who thought it would be a good idea to make dresses for modern women using sari?
Up-cycled jewelry made using a sari, ribbons, cushion covers, curtains and bedsheets is what we all have tried at some point of time in our lives. But have a look at this gorgeous Sari dress contributed by pinner E Shelton on her Pinterest board, it looks very modern and I would be surprised if a fashion lover wouldn't want to wear it to her next cocktail party. But wait, I am sorry to tell you that you can't have it. Why? Well… because this sari dress is sixty four years old and part of the collection at Museum of Fine Arts, Boston.
Another one in the list is a medium blue and gold sari dress from 1950s. This sari dress was found atTheVintageStudio that sells vintage clothes and garments made from vintage supplies. I love the detailed Jari work on the dress. The neckline and waistband on the dress looks so modern.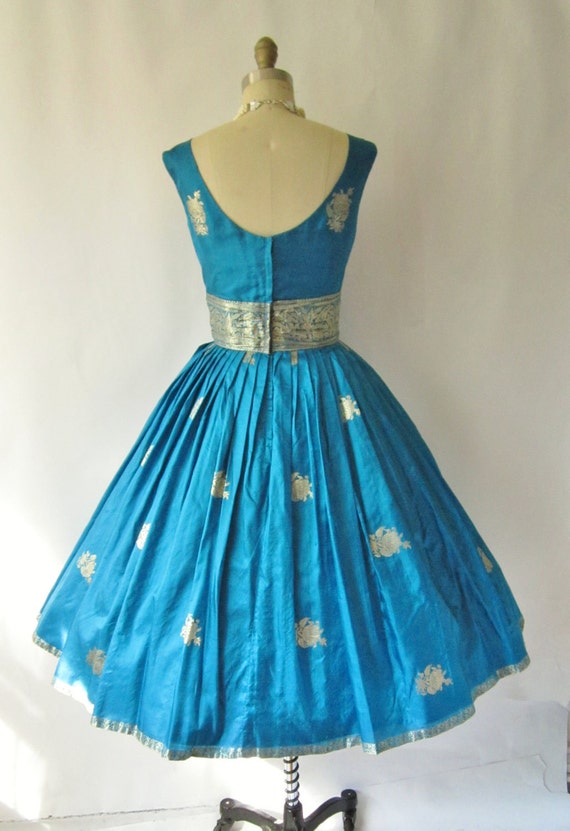 Nothing is better than Black and Gold (Or Black and Silver) party dress, and this off shoulder sari dress tops all of them. Look at the fine detailing of silver jari weaves over Black background on the upper part of this dress. I guess this is the pallu of the sari that is used to make the upper part of the dress. Lower part is obviously made of the other portion from the sari fabric.
Click here to continue reading.